Written by Jason on July 15, 2011
Now import data when you don't know what it is or where it will be stored!
Well, it's not a new feature in the strictest sense - in fact, it's been available since February - but this is the first time we're mentioning it on the blog.
What it can do for you:
get file(s) that are periodically updated, but with new names/URLs
get data based on data from another source, e.g.:

import data from multiple web pages based upon a list that you have access to in Google Docs
use a "top searched" list from one website to get data from another site
capture data from a file where the name changes daily or weekly

get data from many individual sources while only needing to configure a single import
and lots more that we haven't mentioned here, or even thought of!
How does it work? Well, we'll pull a few screenshots from Tutorial 6, Part II, which offers a detailed walkthrough to get you started. In addition, the help pages that are available at each step of the way will guide you through all the flexibility this feature offers. Let's run through an example.
Basically, you select the area that contains the URLs of the actual data you want to capture OR that has information that can be extracted to build a custom URL to the actual data.
In the tutorial, we use a web page from our demo online retailer Danube as the source, but you can also use a a column in an Excel or OpenOffice spreadsheet, a CSV file, or a Google Docs spreadsheet.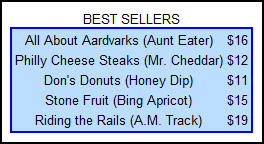 Select an example of a link we want to use as the basis of the mass capture: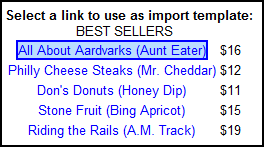 Then, use the information in the source to dynamically create individual sources to capture. These sources can be in any of the import file formats that Tuhunga supports, as long as they can be downloaded from a traditional URL (i.e., anything other than a Google Docs file).
Here, we're going to build a custom URL to go to another online retailer - Thames - to capture their prices on the Danube bestsellers:

Tuhunga will show you how the URLs will be formed based upon your selections. Here, we've chosen to customize the URL, but you can also use URLs directly from the source. Notice how the URLs now retrieve data from our Thames demo site instead of the Danube demo.

Finally, you'll be asked to select the data to import on one of the individual imports to use as a template.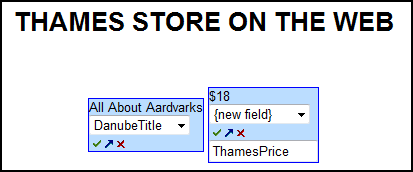 We think this is a pretty neat feature, and we hope you'll agree.