Written by Jason on September 12, 2012
We're pleased to announce that Tuhunga now supports provincial/state-level geomaps for a large number of countries. And they're easy for you to create too! We created the map below in less than five minutes - which includes finding and importing the data.
Plotting states and provinces in a GeoMap-Regions chart type is as easy as plotting countries. You'll need to specify the country whose subdivisions you want to plot by its ISO-3166-2 code. You'll also need the ISO names or codes of its subdivisions as well.
For instance, for Ontario, Canada, the country code is CA (used as the Other Region as shown below) and you'll need either of the following in your results to chart the province:
As another example, for Provence-Alpes-Côte d'Azur, France, use FR as the Other Region and have either of the following in your results to chart the region:
Provence-Alpes-Côte d'Azur
FR-U
A quick Internet search will bring up the ISO-3166-2 standard detail you're looking for - Wikipedia is normally a pretty good source for this. We used their Canadian and French articles for the above examples.
For our example, we used the following result set:
Once you've got data you can use to generate a result set like the table above, select the "GeoMap-Regions" graph type in your report, open the Graph Settings window and under the Options tab, set:
Region to other
Other Region to the two-character ISO-3166-2 country code
Region Divisions to Provinces / States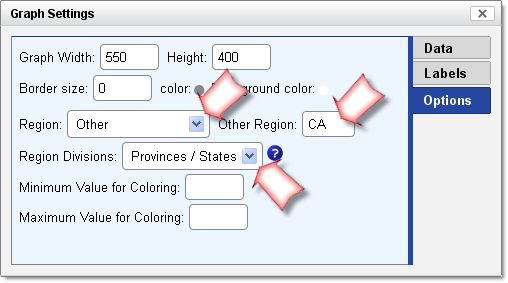 Ensure that your results are generated with the graph enabled, and hopefully you'll have a map like the one at the top of the article.
While many countries' subdivisions are supported, not all of them are. You can try it out yourself, or feel free to contact us and we'll let you know if a specific country is supported.